It's a great honor to be featured on the blog of the person who literally was the reason I created mine. I began blogging and reviewing seriously because Fadwa inspired me. I would not have half of my confidence if it wasn't for her and many others in this community. (Fadwa's note: I had tears in my eyes when I read this. It means the world to me.)
It's no surprise I'll be talking about fat protagonists in my feature because I'm a proud fatty and I've been recently inspired by the cover reveal of a certain book.
First of all, I believe that being excited for fat characters on books is awesome, even if they're exclusively white for now. However, we still need to push for fat people of color on covers. Explicit representation matters.
Even to Rosa Diaz!
However, that doesn't mean we should be adding comments like "they're all white" to positive and happy posts by fat people of color, okay? We should let people celebrate having an aspect of their identity be explicitly represented!
Second of all, reading ownvoices work matters so much. Personally, I wouldn't be the happy proud fatty I am if it wasn't for fellow fatties who encouraged me to accept myself. In books, reading ownvoices, while it might not always suit your own personal experience, can elevate you in knowing someone else relates to your, or that you're not alone in a certain marginalization. For me, it was reading The Upside of Unrequited by Becky Albertalli. I won't wax poetry about this book because I could never do it justice, but I truly am in love with this book.
The main purpose of this post is to get people excited for upcoming releases featuring fat characters! I asked people of twitter, who were so kind, to help and they did. This list is short by my personal estimation but I'm hope it'd act like a start for more and more news of fat protagonists!
Leah on the Offbeat by Becky Albertalli
Leah Burke—girl-band drummer, master of deadpan, and Simon Spier's best friend from the award-winning Simon vs. the Homo Sapiens Agenda—takes center stage in this novel of first love and senior-year angst.

When it comes to drumming, Leah Burke is usually on beat—but real life isn't always so rhythmic. An anomaly in her friend group, she's the only child of a young, single mom, and her life is decidedly less privileged. She loves to draw but is too self-conscious to show it. And even though her mom knows she's bisexual, she hasn't mustered the courage to tell her friends—not even her openly gay BFF, Simon.

So Leah really doesn't know what to do when her rock-solid friend group starts to fracture in unexpected ways. With prom and college on the horizon, tensions are running high. It's hard for Leah to strike the right note while the people she loves are fighting—especially when she realizes she might love one of them more than she ever intended.
---
The Summer of Jordi Perez (And the Best Burger in Los Angeles) by Amy Spalding
Seventeen, fashion-obsessed, and gay, Abby Ives has always been content playing the sidekick in other people's lives. While her friends and sister have plunged headfirst into the world of dating and romances, Abby has stayed focused on her plus-size style blog and her dreams of taking the fashion industry by storm. When she lands a prized internship at her favorite local boutique, she's thrilled to take her first step into her dream career. She doesn't expect to fall for her fellow intern, Jordi Perez. Abby knows it's a big no-no to fall for a colleague. She also knows that Jordi documents her whole life in photographs, while Abby would prefer to stay behind the scenes.

Then again, nothing is going as expected this summer. She's competing against the girl she's kissing to win a paid job at the boutique. She's somehow managed to befriend Jax, a lacrosse-playing bro type who needs help in a project that involves eating burgers across L.A.'s eastside. Suddenly, she doesn't feel like a sidekick. Is it possible Abby's finally in her own story?

But when Jordi's photography puts Abby in the spotlight, it feels like a betrayal, rather than a starring role. Can Abby find a way to reconcile her positive yet private sense of self with the image that other people have of her?

Is this just Abby's summer of fashion? Or will it truly be The Summer of Jordi Perez (and the Best Burger in Los Angeles)?
---
To Be Honest by Maggie Ann Martin
Savannah is dreading being home alone with her overbearing mother after her sister goes off to college. But if she can just get through senior year, she'll be able to escape to college, too. What she doesn't count on is that her mother's obsession with weight has only grown deeper since her appearance on an extreme weight-loss show, and now Savvy's mom is pressuring her even harder to be constantly mindful of what she eats.

Between her mom's diet-helicoptering, missing her sister, and worrying about her collegiate future, Savvy has enough to worry about. And then she meets George, the cute new kid at school who has insecurities of his own. As Savvy and George grow closer, they help each other discover how to live in the moment and enjoy the here and now before it disappears.
---
Baker Thief by Claudie Arseneault
Adèle has only one goal: catch the purple-haired thief who broke into her home and stole her exocore, thus proving herself to her new police team. Little does she know, her thief is also the local baker.

Claire owns the Croissant-toi, but while her days are filled with pastries and customers, her nights are dedicated to stealing exocores. These new red gems are heralded as the energy of the future, but she knows the truth: they are made of witches' souls.

When her twin—a powerful witch and prime exocore material—disappears, Claire redoubles in her efforts to investigate. She keeps running into Adèle, however, and whether or not she can save her sister might depend on their conflicted, unstable, but deepening relationship.

—————
BAKER THIEF is the first in a fantasy series meant to reframe romance tropes within non-romantic relationship and centering aromantic characters. Those who love enemies-to-lovers and superheroes should enjoy the story!
---
Fat Girl on a Plane by Kelly deVos
Don't miss this unforgettable debut novel, told in two timelines, about smart fashion, pursuing your dreams, and loving yourself!

FAT.

High school senior Cookie Vonn's post-graduation dreams include getting out of Phoenix, attending Parsons and becoming the next great fashion designer. But in the world of fashion, being fat is a cardinal sin. It doesn't help that she's constantly compared to her supermodel mother—and named after a dessert.

Thanks to her job at a fashion blog, Cookie scores a trip to New York to pitch her portfolio and appeal for a scholarship, but her plans are put on standby when she's declared too fat too fly. Forced to turn to her BFF for cash, Cookie buys a second seat on the plane. She arrives in the city to find that she's been replaced by the boss's daughter, a girl who's everything she's not—ultrathin and superrich. Bowing to society's pressure, she vows to lose weight, get out of the friend zone with her crush, and put her life on track.

SKINNY.

Cookie expected sunshine and rainbows, but nothing about her new life is turning out like she planned. When the fashion designer of the moment offers her what she's always wanted—an opportunity to live and study in New York—she finds herself in a world full of people more interested in putting women down than dressing them up. Her designs make waves, but her real dream of creating great clothes for people of all sizes seems to grow more distant by the day.

Will she realize that she's always had the power to make her own dreams come true?
---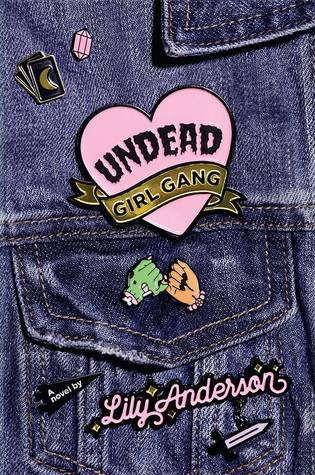 Undead Girl Gang by Lily Anderson
Mila Flores and her best friend Riley have always been inseparable. There's not much excitement in their small town of Cross Creek, so Mila and Riley make their own fun, devoting most of their time to Riley's favorite activity: amateur witchcraft.

So when Riley and two Fairmont Academy mean girls die under suspicious circumstances, Mila refuses to believe everyone's explanation that her BFF was involved in a suicide pact. Instead, armed with a tube of lip gloss and an ancient grimoire, Mila does the unthinkable to uncover the truth: she brings the girls back to life.

Unfortunately, Riley, June, and Dayton have no recollection of their murders, but they do have unfinished business to attend to. Now, with only seven days until the spell wears off and the girls return to their graves, Mila must wrangle the distracted group of undead teens and work fast to discover their murderer…before the killer strikes again.
---
Leigh & Kirby (and the End of Everything Else) by Brandon L. Summers
When her girlfriend of four years asks Kirby to go away with her on their first adult vacation, Kirby eagerly agrees. It's the perfect bridge between the high school life they just finished, and the lucrative jobs awaiting them—and the perfect cover to gather the pieces she needs for a machine that will stop the end of the world.

But her world-saving goal is a long-kept secret, and secrets don't combine well with love and life—especially when danger is added to the mix.
---
Puddin' by Julie Murphy
It is a companion novel to Dumplin', which follows supporting characters from the first book in the months after Willowdean's star turn in the Clover City pageant.

Millie Michalchuk has gone to fat camp every year since she was a girl. Not this year. This year she has new plans to chase her secret dream—and to kiss her crush. Callie Reyes is the pretty girl who is next in line for dance team captain and has the popular boyfriend. But when it comes to other girls, she's more frenemy than friend. When circumstances bring the girls together over the course of a semester, they will surprise everyone (especially themselves) by realizing they might have more in common than they ever imagined.
---
Book blogger @ Mariam's Yummy Books
Mariam is a twenty one year old Virgo who is constantly trying to be more involved in things but absolutely fails due to insecurities. Currently doing their second to last semester at university in English Literature (with an American Studies minor that no one really cares about hush America is gross). They like to remind themself that they're a bookworm because "Married to Fictional Characters" isn't a proper introduction of their hobbies. They like reading, watching TV shows, and reading some more. It's kind of their thing.
Noteable Posts :
Diverse Book Bloggers Discuss is a way to boost diverse bloggers who are brilliant and have a lot to say but have smaller platforms and don't really get as much reach as they deserve. What this is, is basically a guest post feature where twice a month diverse book bloggers will discuss things they are passionate about on my blog.